Eye-T.cz, z. s.
We can see the essentials through our hearts,
for the rest we have the ones and the zeros.
Welcome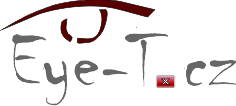 to the official websites of Eye-T.cz – the Registered Society joining both the visually impaired users of electronic compensatory aids based on ICT and their supporters.
Our mission is embodied in the very name of our society: To make by means of information technologies (IT) the lives of visually impaired people, symbolically represented by the word eye, better.
Since December 2010 Eye-T.cz has been an accredited educational institution of the Czech Ministry of Labour and Social Affairs. You can read more about our society in About us.
---
What's new
Nov 13, 2017
8th Eye-T.cz Meeting of Members held on 11th November. The good cooperation with the pharmaceutical firms in the field of making the package leaflets accessible to the visually impaired was commended.
May 24, 2017
New manuals for two Czech talking devices: A wrist wath and an alarm clock wit a thermometer.
The archives

---
This year we have been supported by: