Eye-T.cz, z. s.
We can see the essentials through our hearts,
for the rest we have the ones and the zeros.
Welcome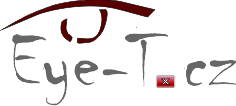 to the official websites of Eye-T.cz – the Registered Society joining both the visually impaired users of electronic compensatory aids based on ICT and their supporters.
Our mission is embodied in the very name of our society: To make by means of information technologies (IT) the lives of visually impaired people, symbolically represented by the word eye, better.
---
What's new
Jul 8, 2021
RNIB Tactile Talking Globe - Manual for the visually impaired. For Czech users, the MP3 audio files have been prepared in Czech in order to make the globe speak in their mother tongue, too.
Oct 1, 2020
RNIB PenFriend 3 audio labeller - Manual for visually impaired persons.
The archives

---
This year we have been supported by: