Eye-T.cz, z. s.
We can see the essentials through our hearts,
for the rest we have the ones and the zeros.
Welcome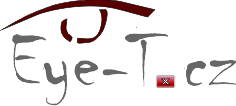 to the official websites of Eye-T.cz – the Registered Society joining both the visually impaired users of electronic compensatory aids based on ICT and their supporters.
Our mission is embodied in the very name of our society: To make by means of information technologies (IT) the lives of visually impaired people, symbolically represented by the word eye, better.
Since December 2010 Eye-T.cz has been an accredited educational institution of the Czech Ministry of Labour and Social Affairs. You can read more about our society in About us.
---
What's new
Apr 16, 2019
Here the Czech visually impaired users can find how to download a book (as DOCX file) from the German Gutenberg-DE project websites.
Nov 30, 2018
9th Eye-T.cz Meeting of Members held on 24th November. This time, the new leadership was elected after another four years passed.
The archives

---
This year we have been supported by: